Water Commander™
Model MG22
High-Performance Model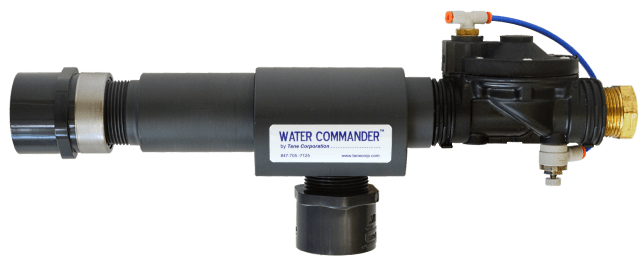 Water Commander™ Model MG22
Our Most Popular Model for Residential Use
Water Commander™ model MG22 is by far our most popular model, a true workhorse that is installed in thousands of homes across the country.
The model MG22 will provide you with significantly more flood protection than any other brand of water-powered pump available on the market today.
This high output pump can easily pump at rates which will meet or exceed those of your primary electric sump pump. It is extremely reliable, operating at full power for many years.
Requirements:
¾" or 1″ water supply
From 40 psi to 125 psi house water pressure
1 ¼" PVC suction and discharge pipes
Pumping Capacity at 10ft Lift:

"Mine was the only basement on the block to stay dry."
"I'm so glad I had a Water Commander™ installed last year. Power was out for almost two days in August after a storm came through with several inches of rain.
Mine was the only basement on the block to stay dry. This emergency backup sump pump works!"
– Mary Kay, Palatine, IL