Testing a water-powered sump pump is quick and easy to do.
If you're wondering how to test a water-powered backup sump pump, the directions below explain how. (Note that these instructions are specific to Water Commander™, the water-powered backup sump pump that has unmatched pumping speeds and quality compared to other brands.)
1. Your Sump Pit Must Be Filled With Water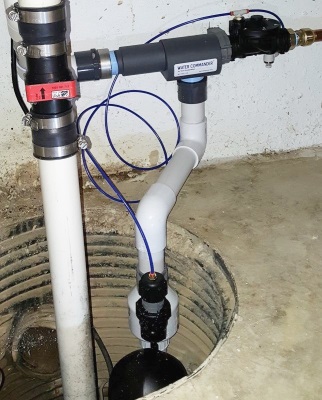 In order to test that your water-powered sump pump is working properly, you first need water in your sump.
The easiest way to do this is simply unplug your primary electric pump until the sump fills with enough water. If the water inflow is too slow, you can manually add additional water to speed up the process.
2. Lift the Float in the Sump
Once you have enough water to pump out of the sump, you need to either manually lift the float yourself or allow the rising water level to lift the float instead. The float used with Water Commander™ lifts only an inch and a half in the vertical direction. (Note: Do not move the position of the float when testing.)
3. Observe the Sump Water Level
Once you've lifted the float, the pump valve will quickly open and you will hear the sound of water running through the body of the pump. Watch the water level in the sump pit. You will begin to see the water receding. The higher the water pressure that your house has, the faster it will empty water from your sump. (See pumping tables).
The video below shows a pumping demonstration of our ultra-performance water-powered pump, Water Commander™ model MG36. At around 60 PSI, a typical water pressure for many homes, you can see how fast Water Commander™ pumps and the how quickly gallons of water are emptied from the sump.
Learn More About Water Commander™

Water Commander™ is a water-powered backup sump pump in a class of its own. Unlike other water-powered backups, it can pump more than a high-end battery backup while never losing power. Water Commander™ high-performance model MG22 removes up to 1,800 GPH (gallons per hour), while our ultra-performance model MG36 removes up to 2,830 GPH. Learn more by visiting the rest of our website.
If you have any questions, please reach out to us and we'll be happy to help you out.