The best water-powered backup sump pump on the market by far is Water Commander™.
Water Commander™ water-powered sump pumps are significantly better than any other water-powered brand. Water Commander's ultra-performance model, model MG36, is able to pump faster than high-end battery backups and 2-3x more than any other water-powered backup. Our high-performance model MG22 also pumps more than any other brand and is installed in thousands of homes across the country.
Water Commander™ sump pumps, manufactured in the USA, are higher quality than anything else on the market. Rather than cutting corners to reduce cost, we only use top quality, heavy-duty parts to ensure your pump works great the first time and will last for many years without leaks or other problems.
The Best Pumping Performance
Water Commander™ model MG36 pumps 2-3x more than any other water-powered sump pump brand. With that type of pumping speed, you'll be able to rest easy knowing you have unparalleled protection from flooding.

For homes with water pressure around 80 PSI, the MG36 will pump 45 GPM (gallons per minute), which is faster than high-end battery backups. By comparison, other water-powered brands remove significantly less water than Water Commander™ under the same conditions, between 25-32 gallons less per minute. Water Commander's huge pumping advantage could save your basement from flooding during severe rainstorms.
See the graph below for pumping rate comparisons at different pressures.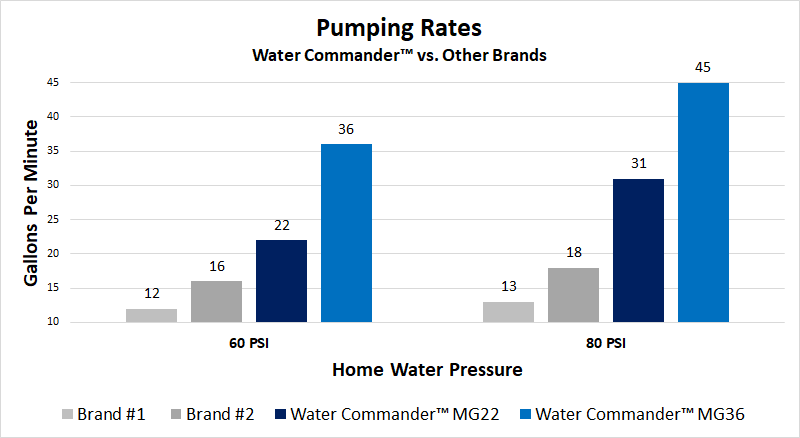 Seeing is believing, so watch the Water Commander™ model MG36 pumping in the 1-minute video below. You won't find another backup sump pump that can pump this fast and never lose power like battery backups do.
As the pumping rate chart above shows, our high-performance model MG22 pumps faster than any other brand as well and is capable of impressive pumping rates. One customer of ours from eastern Pennsylvania installed the model MG22 in his home and found that at 90 PSI, it pumped about 750 GPH faster than his 1/3 HP primary electric sump pump:
"The performance of the unit is OUTSTANDING. With my city water pressure at 90 PSI, this can outperform my current electric 1/3 HP electric main pump. My estimates have this Water Commander at 2,250 GPM and frankly they could be higher based on the water evacuation times I recorded when running simulated comparisons tests between the Water Commander vs. the existing sump pump." (Chuck from Eagleville, PA)
You can't go wrong with either Water Commander™ model MG22 or MG36. Both provide unparalleled pumping speed that you won't find from any other water-powered sump pump.
The Best Pump Quality
Not only do Water Commander™ sump pumps have the fastest pumping speeds, but each one is built in the USA to the highest quality as well. All Water Commander pumps are professional grade products, preferred by master plumbers for residential and commercial installations.
Water Commander™ is the only water-powered backup sump pump with a jet that is machined out of solid bar-stock, unlike the cheaper thin-walled injection molded parts of other brands. Our pumps are individually hand-assembled using top quality, heavy-duty parts to ensure you won't experience performance or leaking problems common with other cheaper pumps.
While other brands focus on cutting costs to maximize profit, Water Commander™ is built to last for years and years. We don't cut any corners and our customers are consistently thankful for our product's performance and reliability.
Install a Water Commander™

If you're interested in Water Commander™ for your home, just contact us for a local dealer/installer.
Water Commander™ is a water-powered backup sump pump in a class of its own. Unlike other water-powered backups, it can pump more than a high-end battery backup while never losing power. Water Commander™ high-performance model MG22 removes up to 1,800 GPH (gallons per hour), while our ultra-performance model MG36 removes up to 2,830 GPH. Check out our installation page to see examples of how Water Commander is installed in actual homes.
Learn more by visiting the rest of our website or contact us with any questions you might have.